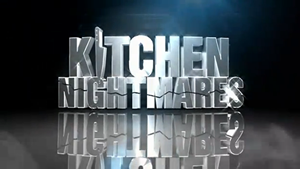 Kitchen Nightmares
is a reality television series in which world-renowned chef and uber-successful restauranteur
Gordon Ramsay
spends a week with a failing restaurant at the owner's behest in an attempt to save the business. There exists both an American, and British version of the show, with the British (and original) version being called "Ramsay's Kitchen Nightmares."
For many, Ramsay is their last chance to help turn around their businesses or else they'll be forced to close their doors forever. Each week, Chef Ramsay visits a new establishment with myriad problems. He delves deep into the inner workings of each eatery to explore everything from unsanitary refrigerators to lazy and inexperienced staff in order to diagnose the real problems. Whether he changes the restaurant's operations, updates the menu or gives the establishment a complete makeover, Chef Ramsay does whatever it takes to try and turn these restaurants into popular, successful and, most importantly, money-making businesses. It's up to the restaurant owners to take his advice and use it, or face closure.[1]
British version
Edit
April 27, 2004 – January 30, 2009
American version
Edit
September 19, 2007
References
Edit
Ad blocker interference detected!
Wikia is a free-to-use site that makes money from advertising. We have a modified experience for viewers using ad blockers

Wikia is not accessible if you've made further modifications. Remove the custom ad blocker rule(s) and the page will load as expected.